Liedertafel in Oxford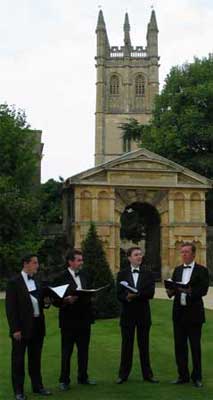 Founded in 2003, Liedertafel is drawn from four of the most prestigious choral foundations in the world; Westminster Cathedral, St. George's Chapel at Windsor Castle, Christ Church Cathedral, Oxford and New College, Oxford.
Their unusual concerts range from "Oxford Detective Fiction and Music" with Colin Dexter OBE, to obscure Spanish polyphony and neglected English and German romantic part-songs for mens' voices.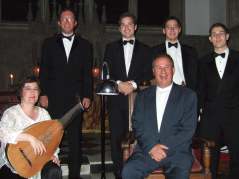 With the world-famous countertenor James Bowman, Liedertafel have given concerts in Oxford and Cambridge. In their highly popular Christmas concerts, they have been joined by the BBC Chorister of the Year 2005, Harry Sever, and Helen and Kate Ashby who are members of Stile Antico.
"James Bowman's concert with Liedertafel in Wadham College Chapel was one of the most enjoyable performances I have been to in Oxford for a long time.... Liedertafel's approach was delightful, vivid in such frivolities as Henry VIIIs Adieu madame et ma maistresse, agonisingly intense in Brumel's Lamentations." The Oxford Times.
"... a perfection of blend and tone that was at all times extremely satisfying, and at times beyond sublime." Henley Standard
"Your concerts are just the sort of thing I love doing." James Bowman after singing with Liedertafel in Wadham Chapel on September 29th, 2007.
"Working with Liedertafel has been a great joy for me" Colin Dexter OBE (creator of Inspector Morse).
The Liedertafel Tradition
"Liedertafel" ("Song table") has been a traditional title for mens' voice singing groups in Germany since the beginning of the 19th century. In 1808 The Berlin Liedertafel was formed and, as with the English glee clubs, members met on a fixed evening each week to eat, drink and make music. The Oxford Liedertafel carries on some of this tradition, albeit in a different order!
A song table from Naples