Matthew Vine
Tenor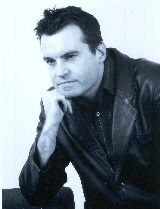 Matthew Vine was a chorister at St Paul's Cathedral under Barry Rose. In 1980 he was the singer on Radio 4's popular serialisation of 'The Lord Of The Rings'. He then took up a Music Scholarship at Cranleigh School, taking lessons in piano (with Alan Gravill), jazz piano (with David Rees-Williams), organ (with Charles Macdonald), singing (with Charles Thompson), flute (with Louise Glanville), and saxophone (with Pat Dixon).
After a gap year indolently spent in Perth, West Australia, Matthew went up to Christ Church, Oxford to read Music, and to sing in the Cathedral Choir under the direction of Stephen Darlington. This was a busy time for the choir and he assisted on eight or nine CDs on Nimbus, as well as gaining an introduction to concert touring.
Matthew was a Lay Clerk at Westminster Cathedral from 1990-95, also establishing himself as a member of a number of concert choirs and smaller groups, often specialising in Early Music.
As a concert singer he has performed regularly, often as a soloist, with The King's Consort, The Clerks Group, His Majesty's Sagbutts And Cornetts, The Sixteen, Ex Cathedra and The Huelgas Ensemble. He is most often called upon to sing works by Bach, Monteverdi, Handel, Purcell and Schutz; but is at home in much 20th century repertoire. He has performed the Vespers by Rakhmaninov many times, also music by Britten, Ligeti and Stravinsky, in whose 'Les Noces' he took the role of the Convivial Wedding Guest.
He has been a soloist at The BBC Proms on two occasions: with The Sixteen in 2002, singing The Messenger in Handel's 'Samson', and in 2004, taking one of the tenor parts in Monteverdi's 'Vespers'.
Touring activities have taken him to many countries and he has appeared on more than a hundred recordings.
Matthew, who teaches singing at St Edwards School, Oxford, works for the Associated Board of the Royal Schools of Music and in October 2004 travelled to Hong Kong for several weeks of examining.
He will in 2004/5 also be directing his own small concert group, called Vinum Bonum, at venues in Oxford, Warwick andYork; whilst continuing to try to improve his piano and saxophone playing - when not rehearsing and appearing on stage as part of Liedertafel!